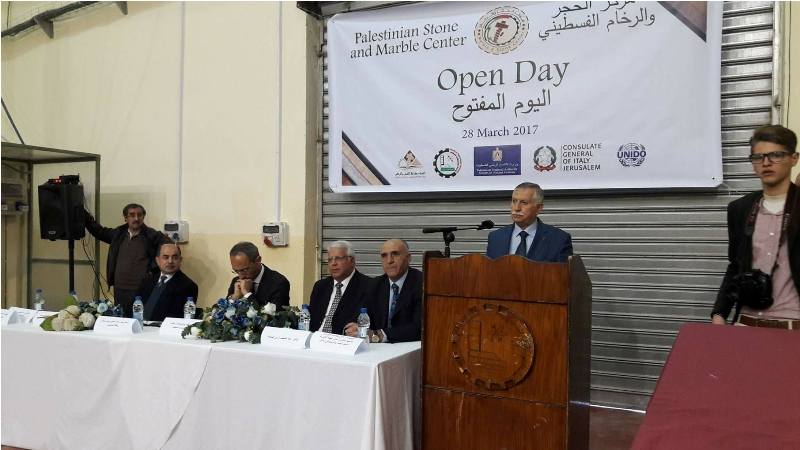 On the 28th of March, the PPU held an open day for the Palestinian Stone and Marble Center, under the patronage of the Chairman and Members of the Board of Trustees of Palestine Polytechnic University (PPU).
It was  attended by the Italian Consul General in Jerusalem, Mr. Fabio Sokolowicz, the Deputy Minister of National Economy engineer Manal Farhan, the Chairman of the PPU Board of Trustees  Mr. Ahmed Al-Tamimi, the Chairman of the Administrative Council of the Palestinian Stone and Marble Center,  the Director of the Center's Project in UNIDO Ms. Christina Pietasi, the Chairman of the Chamber of Commerce and Industry in Hebron District Mr. Mohammad Ghazi Harbawi, the representative of the Governor of Hebron Mrs. Safaa Abu Snaineh, the Secretary General of the General Federation of Palestinian Industries Mr. Nooriddin Jaradat, the Chairman of the Administrative Committee in Hebron, and the Center Executive and Technical Staff in addition to the PPU President Dr. Imad al-Khatib and his vice presidents, representatives of the partners of the center  in the Federation of Stone Industry and the Palestinian National Economy and a number of owners of stone quarries and related sectors.
 During the day, the participants were briefed on the facilities of the PSMC like workshops, labs and technical achievements in the framework of the Palestinian stone classification till arriving at a unified code for global marketing. A series of ideas and ambitions have also been reviewed in order to conduct geophysical studies and surveys in the field of quarrying.
The event has included presentations by the Center staff and experts and a field tour to the center facilities, sections and laboratories, in addition to its other activities such as the stone library, stone designs, waste recycling techniques, and  a stone industry database,
The participants highly valued the entrepreneurial role of the PPU in serving the local industry and the national economy through its tripartite participation with the Union of Stone and Marble and the Ministry of National Economy in establishing this unique center in the Middle East.
It is noteworthy that the PMSC is a unique tripartite partnership between the Palestinian Ministry of National Economy, Palestine Polytechnic University (PPU) and the Union of Stone and Marble Industry. The project is funded by the Italian Government with the support of the Consulate-General of Italy, Jerusalem, and by the United Nations Industrial Development Organization (UNIDO).

Public Relations Department