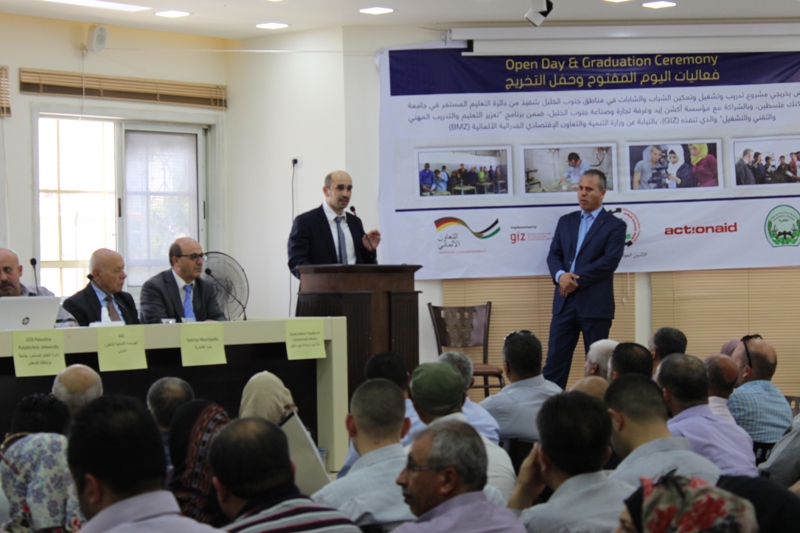 Continuing Education Department (CED) at Palestine Polytechnic University (PPU) has organized an Open Day with the Private Sector and Labour Market representatives in addition to a Graduation Ceremony for target youth residing in south Hebron Area C, those who have been participating in different training and capacity building programs implemented by CED in partnership with Action Aid Palestine (AAP) and South Hebron Chamber of Commerce and Industry (SHCCI) within a project aiming at empowering youth residing in Hebron Area C through TVET and Employment Programme (TEP) implemented by the GIZ on behalf of the German Federal Ministry of Economic Cooperation and Development (BMZ).
The event which was conducted in Al – Dahrieh Municipality had received many representatives from different parties including Mrs. Sabina Gebauer (TEP Advisor – GIZ) and Eng. Zubeidy Hamayel (Programme Coordinator – GIZ), in addition to a very wide attendance by private sector and labor market representatives as well as representatives from the Ministry of Labour, Employment Offices, TVET institutions, Project team and the Graduates.
Events of the Open Day started with different speeches presented by the Head of Al – Dahrieh Municipality (Mr. Rateb Sabbar), Head of SHCCI (Mr. Jalal Makharza) and Programmes Manager at AAP (Mr. Ibrahim Ibraigheth), those who thanked the efforts of project teamwork as well as the GIZ and BMZ for financing such a very important initiative that targets an area that deserves a lot of efforts and support.
In her speech (Mrs. Sabina Gebauer) expressed all the gratitude for project team, expressing her complete admiration of achievements and outputs, in addition to congratulating the graduates for passing the training and capacity building programs.
Then; the Director of CED (Eng. Ashraf Zoghayyer) appeared his complete happiness regarding the achievements of the project on Training and Employment wise, demanding the private sector to support TVET sector and aiding youth and graduates in finding their jobs and career paths, at the same time congratulated the graduates wishing them all the best and success in their life, assuring and repeating all the gratitude to the GIZ and BMZ for their esteemed financial and moral support.
In another session, Ms. Mai Al – Qaisi presented the main results and outputs of the project including number and nature of trainings conducted, and highlighting main challenges and barriers that encountered project team during implementation.This had been followed by a wide discussion between project team and the audience, ended by a brief about Networking Activities being built with the stakeholders presented by Mrs. Israa Qaisiah from SHCCI.
At the final session, Representatives of the GIZ, CED-PPU, AAP and SHCCI had the honor to deliver training certificates to the (200) graduates of the project, where the Director Of CED had renewed special thanks to all of those working on the implementation of the project including Eng. Aref Herbawi, Mrs. Taghreed Herbawi, Mr. Jamal Hermas and Mr. Bader Al-Muhtaseb (From CED), Ms. Mai Al – Qaisi (From AAP), Mrs. Israa Qaisiah and Mr. Majed Abu Sharkh (From SHCCI).

Public Relations Department