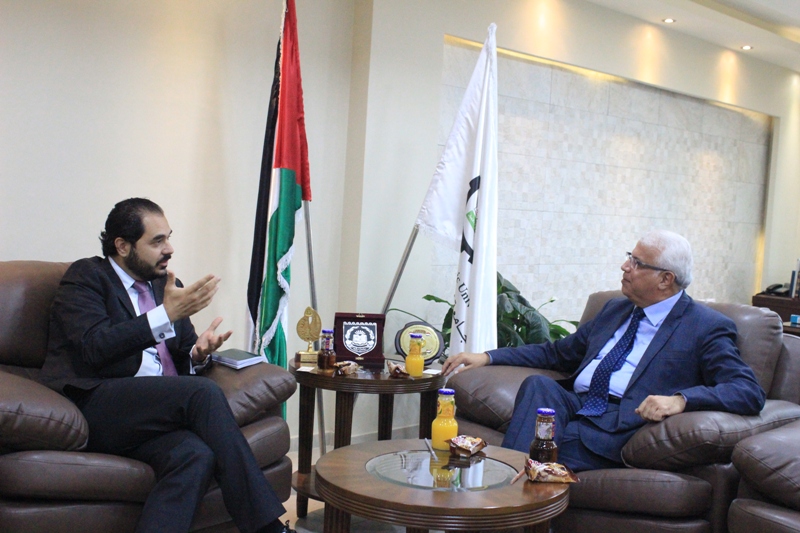 On October 9, 2017, the PPU received Mr.  Yachar Nafissi Azar, the Deputy Head, Representative office of the Swiss Republic in Palestine and Deputy Coordinator for the Middle East political affairs in the Swiss  Foreign Ministry. The visit has aimed at exploring prospects for mutual cooperation between the two parties.
Dr, Imad al-Khatib, the University President, welcomed Mr. Azar and thanked him for his interest in visiting the PPU. Then, he gave an overview of the history of the university, its unique academic programs, and the centers serving the community. He also briefed the guest on the university academic and research plans and their entrepreneurial role and partnership with all the community and all other sectors.
Mr. Azar praised such cooperation between the PPU and the Swiss universities, especially in the subject of innovation and entrepreneurship in science and economics, and scientific research.
After that he was taken in a tour to the Stone and Marble Center, IT Center of Excellence and Business Incubators, and the Center for Excellence in Teaching and Learning. Mr. Azar expressed his admiration for the University and its development, and its distinguished programs and centers which link the university with all the community sectors.
Mr. Abd-AlNasser Da'na, the Director of the Public Relations, also stressed the need for  such cooperation between the Swiss University and the PPU.  Both parties at the end have agreed to expand and deepen such academic and research cooperation between them in the near future.

Public Relations Department