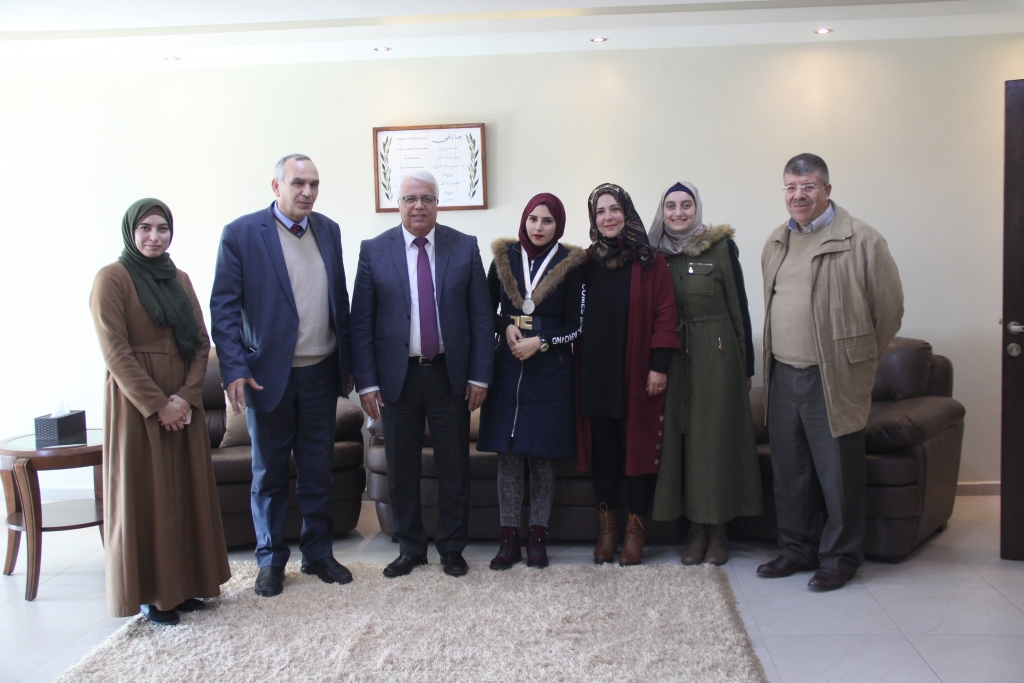 Palestine Polytechnic University honored two of its students: Tabarak al-Natsheh and Maram al-Balasi, who were qualified to participate in the International Skills Competition in decoration and painting profession at the level of Palestine, which was hosted by Abu Dhabi on late November 2018.
This event was attended by the University President Prof. Imad Khatib, the University Vice-President for Planning and Development Affairs Mr. Ayman Sultan, the Dean of the College of Applied Professions (CAP) Dr. Ishaq sider and the chairmen of the departments of this College. It was attended also by the Director of Information and Public Relations at the Federation of Palestinian Chambers of Commerce, Industry, and Agriculture Mr. Akram Hijazi, the Palestinian Assistant Technical Representative Mr. Rashad Faqih, the Palestinian expert for the World Skills Organization engineer Hiba Sweiti and representatives of Opal Company.
On the sidelines of this meeting, the University signed a memorandum of understanding with the Federation of Chambers of Commerce, Industry and Agriculture to have cooperation in all common areas.
It is noteworthy that this ceremony comes as part of preparations for the World Skills Kazan 2018 to be held in August 2018 in Kazan, Russia. The competition is expected to bring together more than 1,300 young professionals representing more than 70 countries and competing for more than 50 skills.
The competition is held biennially and is the largest event of professional excellence in the world that reflects the global industry. One of its most important objectives is to highlight the importance of vocational education as a real tool for social and economic transformation as well as providing leaders in industry, government and education with an opportunity to share information and their best practices in industry and education. Such new ideas will inspire students at school age to dedicate themselves to professional and technical work to have a better future.
It is worth mentioning that the College of Applied Professions, the largest technical and vocational education and training platform in Palestine, took part in the World Skills 2017 Competition through the participation of the student: Ibrahim al-Qawasmi,  and that it seeks to enhance Palestine's participation in this competition and provide it with qualified competences  to  achieve an advanced level worldwide.
Information & Public Relations Department