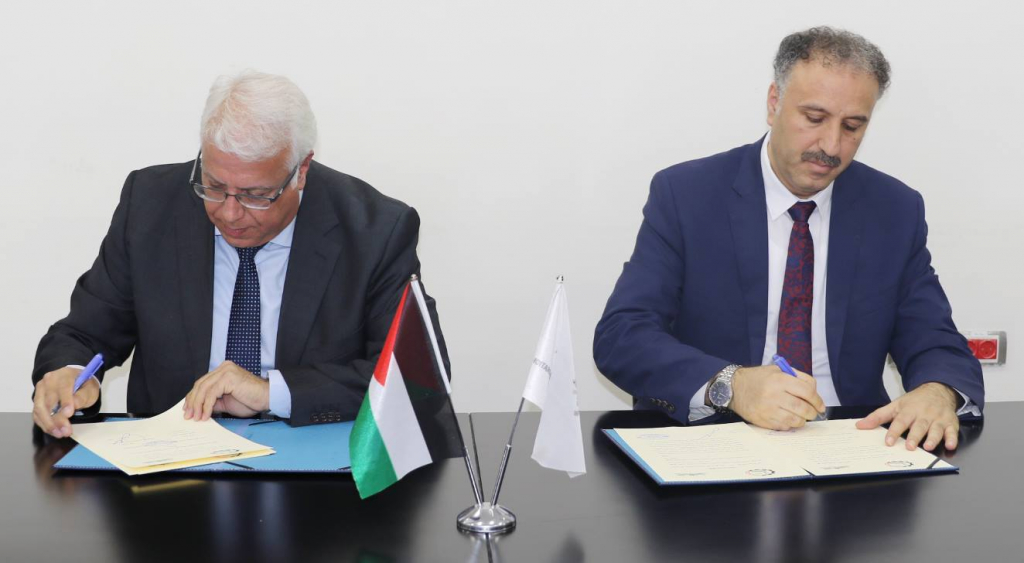 The General Supervisor of Official Media: Minister Ahmad Assaf  has signed a cooperation agreement with Dr. Imad al-Khatib, the President of Palestine Polytechnic University, in the PBC headquarter, in the presence of  Dr. Amajd Barham, the Vice-President of Administrative Affairs, the Vice President for Community Service Dr. Mohammad Ghazi Qawasmi, the Director of Public Relations and Information Mr. Abdel Nasser Da'na,  the Dean of the College of Administrative Sciences and Information Systems Dr. Ismail Rumi, and the Chairman of the Department of Multimedia/Graphics Mr. Mohammad Nader al-Fallah, in addition to the directors at the Palestinian Broadcasting Corporation.
The cooperation agreement aims to train the University students and its staff in the PBC's studios and highlight the success stories of the University students. It aims also to exchange experiences and cover all the university different  activities, as well as establishing a media center at the University and having cooperation to develop academic programs in this field. 
During the signing ceremony, Assaf has pointed out that the official media is open to all the institutions, especially the ones that add quality, adding that the official media has room for all. He also said: "We stand at one distant and put the various facilities and equipment available from television, radio, multimedia and various equipment to our students.  All this aims at creating a generation capable of building and keeping pace with development and knowledge growth to enable graduates to compete in the local and Arab labor market".
On the other hand, the PPU's President Prof. Imad Khatib reviewed the developments in the University, especially in the field of multimedia/graphics, energy and many other fields, noting that in recent years the official Palestinian media has witnessed remarkable progress in its performance and equipment.
Information & Public Relations Department