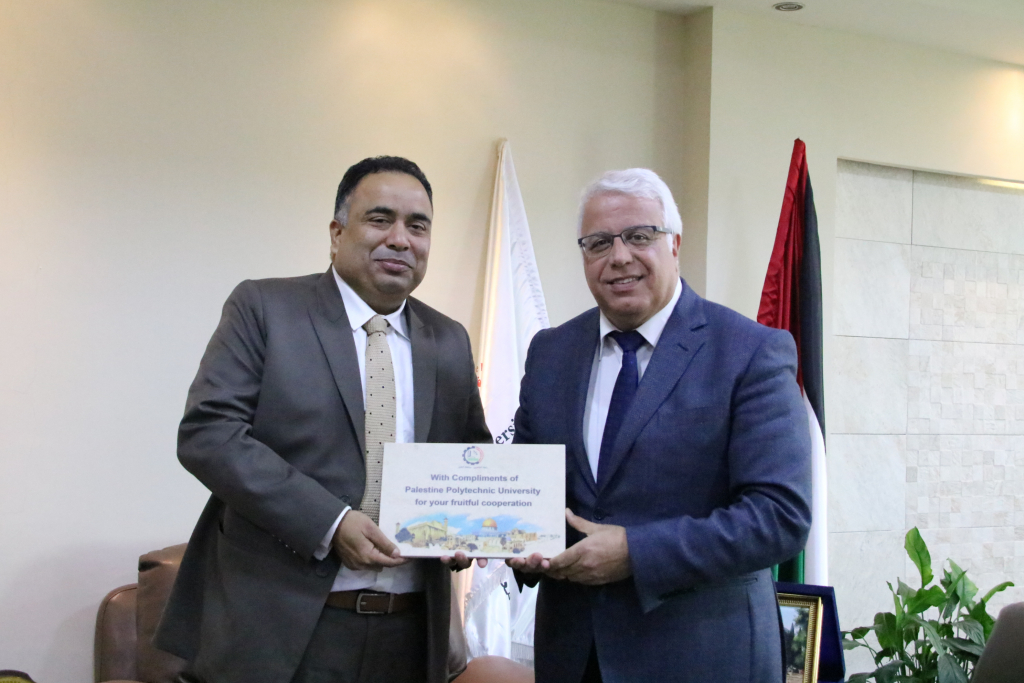 The President of Palestine Polytechnic University Prof. Imad Khatib received, in his office, the Indian Ambassador for Palestine Mr. Sunil Kumar, the Public Relations officer of the Indian Representation Mr. Mohammad Abu Shamsiyeh, the Commercial and Project Relations officer Ms. Sondos  Qawasmi,  in the presence of the Vice President of the University for Community Service Dr. Mohammad Ghazi Qawasmi, the Director of Public Relations and Information Mr. Abdel Nasser Da'na, the Director of the University President's Office eng. Yousef Salah, in addition to the Director of the Center of Excellence and Continuing Education eng. Ashraf Zughayer, and eng. Bader Muhtaseb.
Al-Khatib welcomed the visiting delegation and gave a brief information about the university, its academic programs, vision, future plans and the role it plays to serve all the local community sectors. He also talked about the University projects and its different facilities, appreciating the support of the State of India, both government and people.
Mr. Kumar as well expressed his happiness for having such friendship between the Indian and the Palestinian people, stressing his country's readiness for mutual cooperation in all scientific fields.
At the end of the visit, the guest delegation were taken on a tour to the Autotronic lab funded by the State of India. He also expressed his admiration for the University development and its societal role and its interest in having various partnerships in all levels.   
The participants also stressed the need to continue academic relations between the Indian universities and Palestine Polytechnic University in addition to having such relations between the competent authorities in occupational safety and health and the various sectors. At the end they agreed to expand, network and strengthen academic and research cooperation between the two parties in the near future.
Information & Public Relations Department