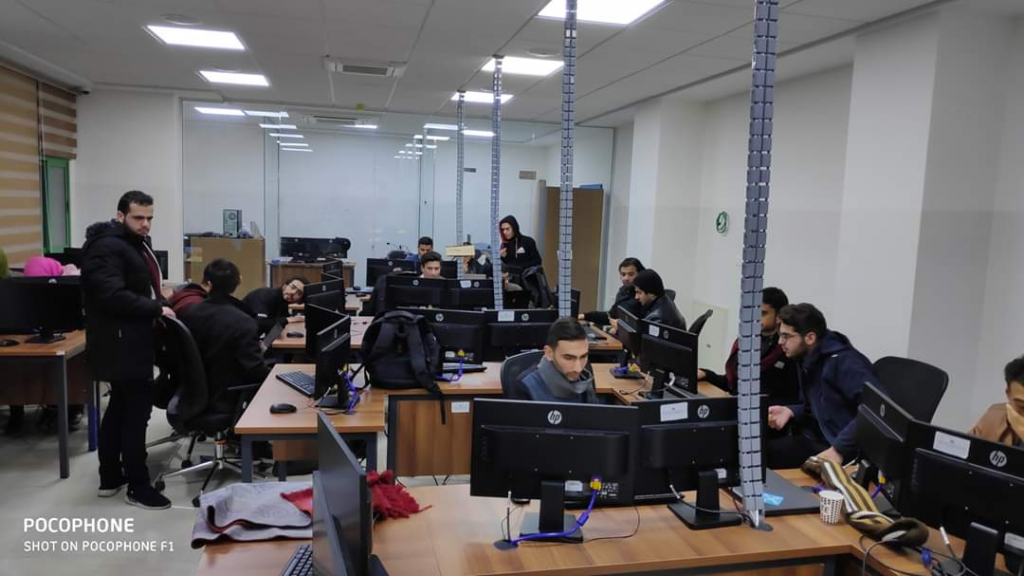 With the participation of ten thousand teams around the world, Palestine Polytechnic University wins the advanced positions in the Google Hash Code International Competition The PPU's team has won the international Google Hash Code competition, in which Eighty Six "86" teams from the State of Palestine and more than ten thousand teams from different countries around the world participated. The competition lasts four hours, during which the participating teams, whether students, programmers representing companies, or individuals , were trying to find the best solutions to a real software problem posed by Google.   Six teams made up of 30 contestants, students and alumni, participated in the competition site at Palestine Polytechnic University. The "7 Up" team, consisting of contestants Khaled Al-Jubeh, Mohammad Al-Shaloudi, Yassin Al-Karaki and Abdel Hamid Abu Zanouna, won the third place, the "Google Me" team, consisting of Walid Al-Ja`bah, Basil Al-Atawneh, Muawiya Al-Natsheh and Ameer Al-Takrouri, was ranked seventh, and the "Smokers" team, consisting of Ahmad Al-Karaki, Osama Maharmeh, Mahmoud Skafi, and Mohammad Al-Natsheh, won the tenth place.  Also, the team "Fedora", consisting of Amro Amro, Wissam Hroub, Qusai Hroub and Abdel-Khaleq Al-Junaidi, was ranked 22
nd.
  It is noteworthy that the University teams, through their continuous participation in competitions at the local, regional and international levels, are ranked first in most programming competitions.
Dr. Musa Irfaiya, the supervisor of the competition, thanked those who contributed and supported the organization of the competition for this year, especially the administration of the College of Information Technology and Computer Engineering represented by its dean and the PPU's administration. He also thanked the advanced software engineering unit for providing its lab and logistic support for the competition, as well as the teachers and students involved in coordinating the competition.
Department of Public Relations & Media