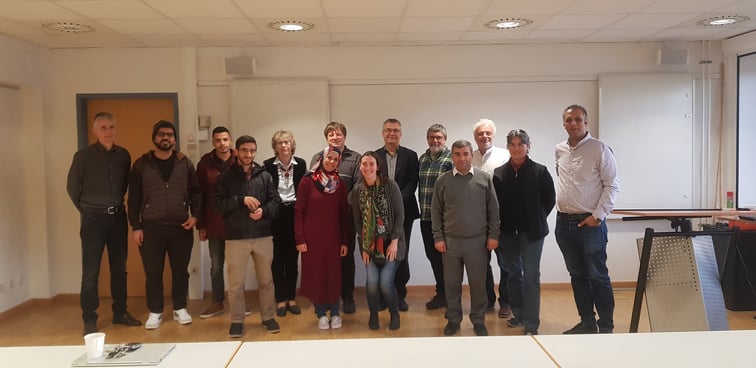 The Palestine Academy for Science and Technology announced the final results of the PGSB grants for the for all the categories of projects. The College of Applied Sciences/Applied Biology Program at Palestine Polytechnic University has received three grants for the following graduation projects for students: Khaled Abu Ishkhaidem, Aysha Abu Ghrayeb,  and Hala Alqam, who are specialized in Applied Biology. These projects  were under the joint supervision of  Dr. Sharaf Taradeh, from the Palestinian side,  and Dr. Christina Kochundrof and Dr. Arned Kochen,  the German side at Jülich Research Centre.  It  should be noted also that the subject of the scholarship  is in botanical sciences, one of the distinguished branches in the College of Applied Sciences.
 The student: Ashwaq  Al-Najjar, also a graduate of the Applied Biology program, has received a doctoral scholarship in Plant Sciences / plant nutrition and psychology, also under the joint supervision of the above supervisors. It is noteworthy that the final results were delivered after a large number of applicants competed for these grants, and our students were qualified to win the projects after passing all the required interviews and tests. The bulk of these projects will be implemented at the Jülich Research Centre in Germany.
For more information about the winning projects, you can visit the Palestine Academy website for Science and Technology at the following link:
http://palast.ps/en/what-we-do/science-bridges/pgsb/5th%20Call%20participation?fbclid=IwAR0l-v6TWawQnvpy1ltFO8Y_ehL75ZjXALYbcjbnqjvgZZLQC2hxDEbv9PQ.