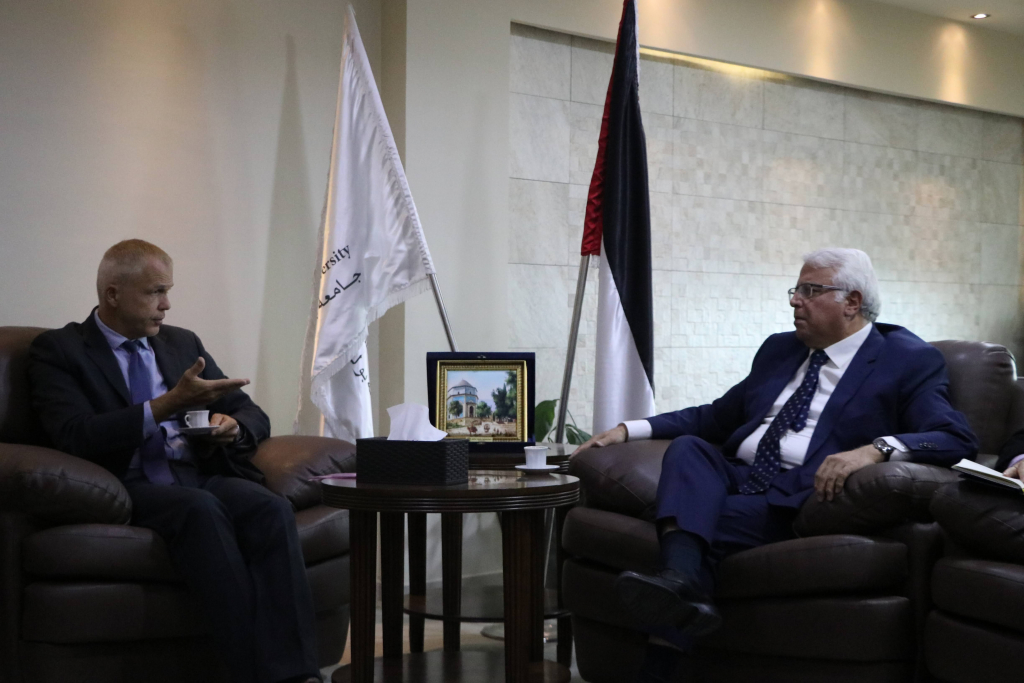 The PPU hosted a high-level delegation from the European Union headed by the Director of Cooperation in the European Union Gerhard Krause and the Political Consul Simone Brotini, within the framework of joint cooperation between the University and the European Union.  Mr. Krause praised the leading role of Palestine Polytechnic University in implementing and developing projects, including those projects that are provided and supported by the European Union and are related to these projects sustainability, to serve the higher education sector, scientific research, and community service.
The visiting delegation was received by Prof. Dr. Imad Al-Khatib, President of the University, Engineer Ayman Sultan, Vice President for Planning and Development, and Ms. Razan Al-Awawda,  Director of Planning and Development.  Dr. Al-Khatib welcomed the delegation and thanked them and the team of the European Union Office for their efforts for serving the Palestinian community. Afterwards,  he gave an overview of the qualitative projects led by the university at the level of academic and student exchange and postgraduate programs. He also reviewed the results of the implemented projects that showed the qualitative development in the projects and their results and helped to network with universities at the European and international level.
The university president also expressed his gratitude for the role of the European Union in advancing development in Palestine, in addition to its pivotal role in supporting politics and protecting the rights of the Palestinian people, as the European Union had and still has honorable international attitudes towards the Palestinian issue. The attendees then discussed a number of common issues related to joint cooperation and future plans.