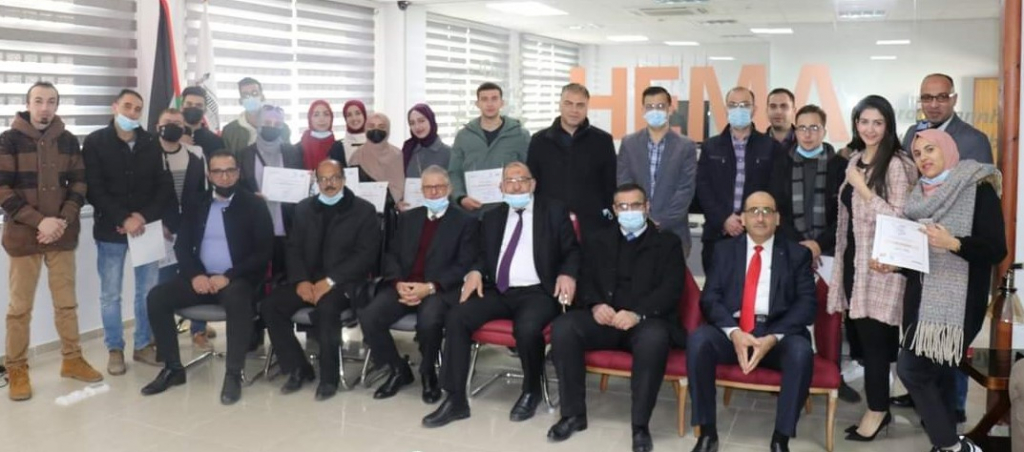 On Tuesday, Jan. 6, 2021,  the Mayor of Hebron, Professor Tayseer Abu Sneina, honored the winning students of the HEMAHack 2020 contest, in the presence of the Vice President of Palestine Polytechnic University for Community Service, Dr. Mohammed Ghazi Al-Qawasmi, the Dean of the College of Information Technology and Computer Engineering, Dr. Zain Salah, the supervisor of the winning team, Dr. Musa Irfaiyeh, and representatives from Hebron University and Al-Quds Open University.
The competition targeted Palestinian university students, focusing on creating sustainable job opportunities and learning about new and digital business models, in addition to sharing entrepreneurial ideas and innovative new digital projects. Hackathon activities were organized by Hebron municipality, in partnership with the German municipality of Mannheim.
Abu Sneina, the Mayor of Hebron Municipality, praised the existing strategic relationship between the Hebron municipality and Palestinian universities, in general, and Palestine Polytechnic University in particular, congratulating the winning team for excelling in this distinguished competition.
During the honoring ceremony, Al-Qawasmi emphasized the importance of the integration with local community institutions in supporting youth creativity and developing the spirit of innovation among university students and graduates, so that these young people have their mark in the future of development in Palestine.
Zeina Shaheen, responsible for business incubators in Hebron Municipality, pointed out that 18 initiative students and graduates business owners, from the three universities in Hebron Governorate, participated in the "Hackathon" activities, and that the team of Palestine Polytechnic University won first place in this contest.
Irfaiyeh also stressed the importance of students' participation in community activities in enhancing their competence  by dealing with different sectors. Then,  he congratulated the winning team, namely: Sally Manasrah, Diana Mujahed, Yousef Abu Rayan, Safaa Mujahed, and Bayan Al-Jubeh.
It is noteworthy that Palestine Polytechnic University supports and encourages its students to participate in competitions at the local, regional and international levels, as well as it encourages initiatives and enhances its students'  talents and abilities by providing  all possibilities for them to access to the world.